Foundation Map: March 31, 27 A.D. to January 17, 28 A.D.
For Biblical cross-references for all Sections: click here.
Introduction
Section 1: The Gilboa Encampment
cross-references:
p7: At 158:7.1 the twins are described as stolid. Definition: "(of a person) calm, dependable, and showing little emotion or animation." Could this be a suggestion regarding the eugenic management of subnormal populations?
(68:6.11) The subnormal man should be kept under society's control; no more should be produced than are required to administer the lower levels of industry, those tasks requiring intelligence above the animal level but making such low-grade demands as to prove veritable slavery and bondage for the higher types of mankind.
Consider that the particular pattern associated with how the Revelators talk about the Alpheus twins invites speculation about whether they were in the subnormal category. Consider how valuable it might be from a universe perspective to have this group represented amongst the apostles of Jesus.
From "Government on a Neighboring Planet": (72:4.2) The feeble-minded are trained only in agriculture and animal husbandry, and are committed for life to special custodial colonies where they are segregated by sex to prevent parenthood, which is denied all subnormals. These restrictive measures have been in operation for seventy-five years; the commitment decrees are handed down by the parental courts.
(113:1.1) The teaching about guardian angels is not a myth; certain groups of human beings do actually have personal angels. It was in recognition of this that Jesus, in speaking of the children of the heavenly kingdom, said: "Take heed that you despise not one of these little ones, for I say to you, their angels do always behold the presence of the spirit of my Father."
(113:1.3) The subnormal minded—those who do not exercise normal will power; those who do not make average decisions. This class embraces those who cannot comprehend God; they lack capacity for the intelligent worship of Deity.
Section 2: The Discourse on Prayer
cross-references:
Section 3: The Believer's Prayer
p8: water See Marjorie Ray's presentation on water at the 2016 Scientific Symposium held at Urantia Foundation. Watch a video showing the peculiar relationship that your editor has to ice spikes or Halbertcicles, as I like to call them. Here's one I call "The Spherical Cube":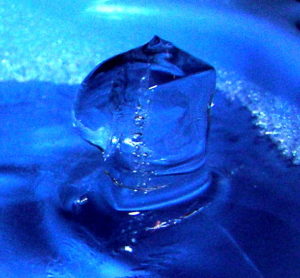 cross-references:
Section 4: More About Prayer
cross-references:
Section 5: Other Forms of Prayer
cross-references:
Section 6: Conference with John's Apostles
cross-references:
p3: Father's business See 148:3, The Father's Business.
p7: the affairs of the kingdom phrase is used ten times: (139.1.8), (139:5.5), (140:8.1), (144.6.7), (156:5.18), (157:3.2), (161:2.12), (174:5.4), (176:2.3), (191:0.3). When the Alpheus twins receive their final instructions from Jesus, the outward affairs of the kingdom phrase is used: (181:2.19).
Section 7: In the Decapolis Cities
cross-references:
p2: signs (87:5.14), (90:2.5), (145:5.6), (146:6.1), (150:3.12), (170:2.10). See also discern the signs of the times  (157:2.1), (176:2.6).
Section 8: In Camp Near Pella
cross-references:
Section 9: Death of John the Baptist
cross-references: